First Journal of the yearrrrrr!
* * * * *
Let's talk about politics on my art page! HAH JUST KIDDING! I don't know why people love being so political on these journals, ESPECIALLY when they have no idea wtf they are talking about. I honestly couldn't care less about politics. I don't care about gas prices; I don't care about who the president is; I don't care why everyone has to complain about how so-and-so being a liar and blah blah blah. That's just my stand on it, because people who talk about politics go on and on and on about crap I'm not interested in. I was in a one-sided conversation with someone who was trying to convince me how evil Romney was. I was all like, "okay, can we just drop it and talk about something else?" and she managed to slip an, "oh before we move on, he's anti-gay too" at the very end and I just wanted to leave because SHUT UP! There was another journal I saw on here that was talking about how he hates Obama, and when all his followers asked why, he was all like, "not telling" like a big baby.
I'm gonna admit to not voting in the presidential election last year. I wanted to say something earlier, but people needed to calm down a bit before I did. These problems don't truly affect me. 4 years of Obama didn't affect me one bit (nor did I even notice anything), so why not have another 4 more years. I. Don't. Care. Just because I didn't vote, doesn't mean I don't have "the right to complain." I can complain all I want--it's just not gonna mean anything to you, your mom, your fat ugly children, your 3-legged dog, yo homeboiz, and the maggots that are slowly eating your flesh inside. Interestingly enough, I won't complain because I don't complain about politics. HOWEVER, if YOU complain, EVERYONE HAS TO CARE, RIGHT? Yeah, whatever.
Politics are uninteresting to me. Now imagine me doing the z-snap and closing the door on your face.
Thank you and enjoy your jury duty.
* * * * *
I was about to talk about something kinda serious, but decided that it wouldn't be "hip" enough to do so. SO HERE'S THIS INSTEAD!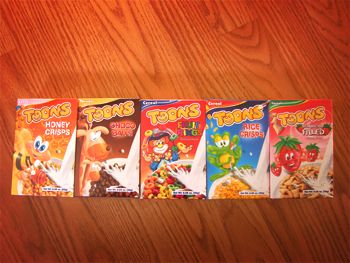 MMM CEREAL!
I was at the 99 Cents Only store and HAD to buy these cereal sampler packs. Omg the drawings are pretty ugly-looking and the clown one was totally designed by a different artist. I'm not entirely sure, but I wanna say that these are just stock images the company purchased a license for and plopped them right onto the boxes. I use to always joke around with my graphic designer friends (all one of them) about redesigning the Captain Crunch cereal boxes. Omg... these drawings are pretty generic and dead.
...And yet, I purchased them anyway. I kinda wanna know how one becomes an illustrator for stock images or a designer for commercial products such as these. I know last spring I wanted to do some freelance greeting card designs, but that mostly involved cheesy stuff like teddy bears, uplifting messages, and a ton of symbolic flower designs. I'd love to try some cheap cartooning, but then I'd have to dumb down my drawings to something like this guy's 12-years of "experience":
[link]
(WARNING! UGLY DRAWINGS!)
Looks like they scaled the smaller giraffe kinda wonky. These cereals were produced by Golden Foods in Egypt. I went to their company website and the poorly looped background was oddly relaxing. Don't believe me? Visit the website and listen for yourself:
[link]
I feel like it's 1996 again and I'm playing Super Mario 64 with my Coca-Cola fanny pack that's carrying my pogs with limited edition Drug-free slammers... and life was chill.
Spoiler alert: The cereal wasn't good.
* * * * *
What's going on with me?
Who lives in a pineapple under the sea?
I'm gonna take a break from background painting for a while and do something I actually know how to do: storyboarding. I've got a copy of the Spongebob Squarepants storyboard test which included: character turnarounds, props, background layouts, and other production whatnots to practice drawing the characters. I also have the writer's boards and recognized Aaron Springer's drawings, so those are pretty cool. I might actually do some Spongebob fan art too--might as well. I'm still doing research on the series, so
IF ANY OF YOU KNOW A GOOD SPONGEBOB EPISODE TO WATCH, YOU BETTER LET ME KNOW!
Talk to you guys later!